H07BN4-F 2X6 R50FILM/P1.2KM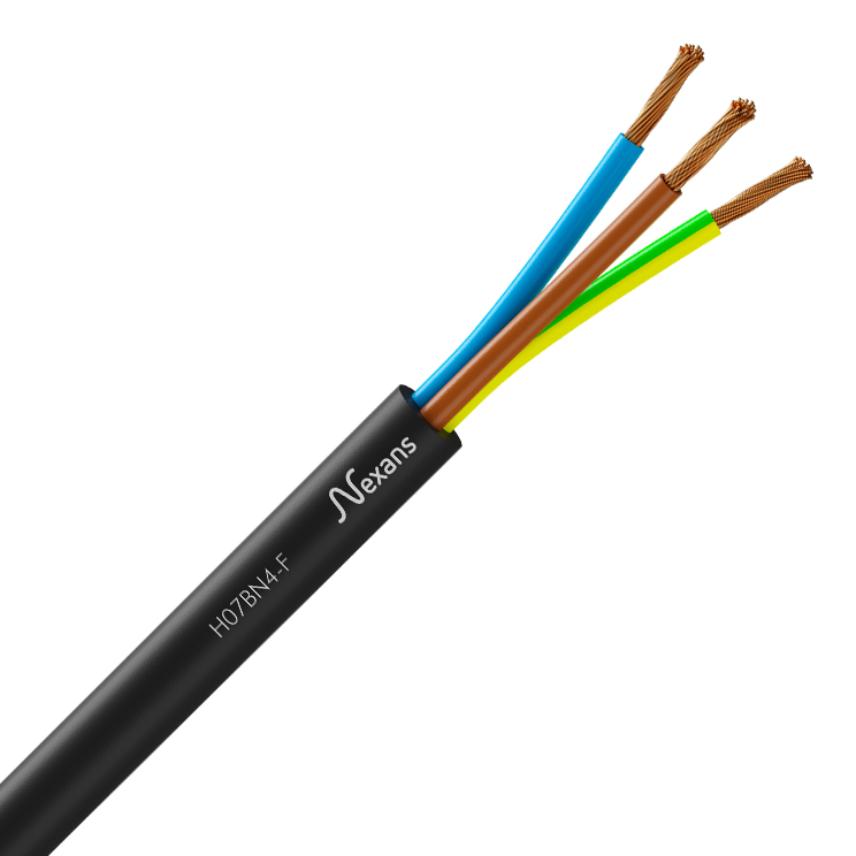 Flexible cable with high temperature resistance, insulation and outer sheath in synthetic elastomer (90°C)
Read more
Nexans ref. : 10218201
EAN : 3427680073006
Description
Description
Standards
International

EN 50525-2-21; HD 22.12; IEC 60245-4 type 66

National

NF C 32-102-12
Application
This range of high temperature flexible cables is particularly adapted for all uses in industry or in specific equipment material for energy production as well as in leading sectors.
H07BN4-F cables are made with synthetic rubbers having an excellent temperature resistance and can be used for intensive applications. In this case H07BN4-F can be more adequate than standard H07RN-F cables for the same core section (wages of weight, dimension, and connection accessories). The use up to 1000 V in alternative current is authorized for protected static installation and for connecting of motors in lifting appliances.
Installation
This cable can be installed in open air or be buried but with extra mechanical protection (tube, gutter).
Conductors laid up
Assembled conductors.
USE <'HAR>H07 BN4-F N X (or G ) S
N = number of cores
G = with Green-Yellow
x = without Green-Yellow
S = section in mm²
Nota
Max continuous operating conductor temperature in normal use :
+90°C ( in every case of mobile installation)
+250°C ( in short circuit )
Permissible current rating is measured for an ambient temperature of 30°C and a maximum operating and conductor temperature of 90°C . For other temperature please refer to correction factors .
Characteristics
Characteristics
Construction characteristics
Construction characteristics
Special cross-linked elastomer
Special cross-linked elastomer
Dimensional characteristics
Dimensional characteristics
Electrical characteristics
Electrical characteristics
Max. linear resistance, phase conductor
Permissible current rating in open air
Voltage drop, 3 conductors
Voltage drop, single phase
Mechanical characteristics
Mechanical characteristics
Mechanical resistance to impacts
Usage characteristics
Usage characteristics
Max. conductor temperature in service
Short-circuit max. conductor temperature
Ambient static operating temperature, range
Minimum dynamic operating bending radius
Minimum static operating bending radius
Resources
Resources
Our websites
Select your country to find our products and solutions