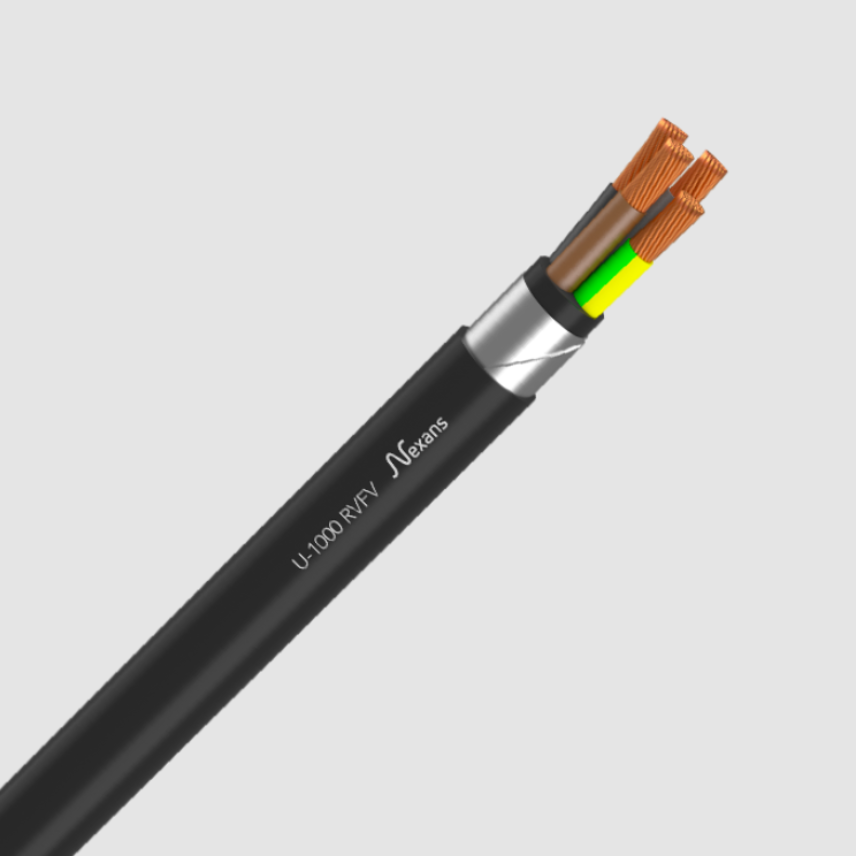 Armoured low voltage cables 0,6/1kV, XLPE insulation and PVC Outer sheath, for fixed or direct buried installation with copper conductor.
Read more
Nexans ref. : 10046461
Country ref. : 01300640
EAN : 3427650017771
Description
Description
Standards
International

IEC 60298

National

NF C 32-013; XP C 32-322
Application
These U-1000 RVFV cables are suitable for direct burial without additionnal protection or for installation on cables trays or in ducts where mechanical protection is necessary (bursting risk).
Core stranding
Cores stranded with filler.
Installation
Burried directly in the ground.
Outside on cable trays, within conduits or fixed to walls.
Marking
U-1000 RVFV NF-USE N° Usine S.Y+ n (x ou G) s mm²
n = number of cores
s = section in mm²
G = with Green-Yellow
x = without Green-Yellow
Permissible current and voltage drop are given
a) in free air, sheltered from sun, on cable tray or bracket, on cable ladder, and spaced from the wall, temperature = 30°C.
b) buried with thermal resistivity of the ground 1Km/W, laying depth : 600 mm, temperature = 20°C.
If conditions are differents, apply correction factors from NF C 15-100 standard or equivalent national standard

Voltage drop
Calculated with cosj = 0,8
Characteristics
Characteristics
Construction characteristics
Construction characteristics
With smaller neutral conductor
Dimensional characteristics
Dimensional characteristics
Neutral conductor section (when smaller)
Electrical characteristics
Electrical characteristics
Permissible current rating in open air
Permissible current rating when buried
Voltage drop, 3 conductors
Voltage drop, single phase
Mechanical characteristics
Mechanical characteristics
Mechanical resistance to impacts
Usage characteristics
Usage characteristics
Max. conductor temperature in service
Operating temperature, range
Short-circuit max. conductor temperature
Laying operation bending radius
Minimum static operating bending radius
Resources
Resources
Our websites
Select your country to find our products and solutions